Search the product for you
Small size, high volume and great versatility
Metro ST and ST Self,
visibility and capacity.
Visibility and capacity of Metro ST (with glass front) and Metro ST Self (without glass front). Channeling the two versions means that multi-purpose areas can be set up. The ventilated refrigeration, humidity control and heated top make Metro the ideal display case for displaying and selling a wide range of products: Pastry, Chocolate, Food & Beverage.Lots of choices, just one product.Small size, high volume and great versatility.
Channeling
Endless combinations
Internal methacrylate partitions are available for display cases with different services, while for channeling of the same services, the choice is yours: without partitions for the best aesthetic look; with partitions to avoid contamination of odours or to keep each channelled display case separate from the rest, allowing them to be switched on independently. Channeling between different Metro models (ST/Self), regardless of the services involved, is achieved by using partitions with insulating glass.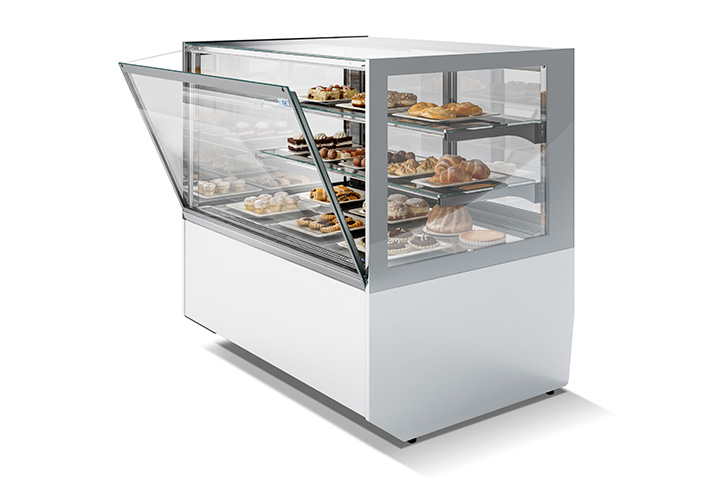 Technical features
| | |
| --- | --- |
| Installation | Plug-in |
| Configuration | Glass shelves 2 (H117); Glass shelves 3 (H135) |
| Product temperature | -1/+5 °C; +14/+16 °C; +65/+80 °C |
| Refrigerant | R290 |
| Refrigeration | Ventilated |
| Compressor | Hermetic |
| Defrost | Off cycle |
| Climate class | 3 (25 C° / 60% RH) |
| Front glass | Double |
| Side glasses | Double |
| Rear closing system | Tempered glass sliding doors |
| Opening system | Openable glass structure towards the bottom |
| Lighting | 3000 K; 4000 K (optional); 5000 K (optional) |
| Equipment handling | Swivel casters with brake; Heigh adjustable feet |
| Color | White RAL 9003 |
| Height | 134; 133 (cm) |
| Width | 95; 130 (cm) |
| Depth | 85; 84 (cm) |