The refrigerated counter with a modular system of doors and drawers
Are you interested in this product?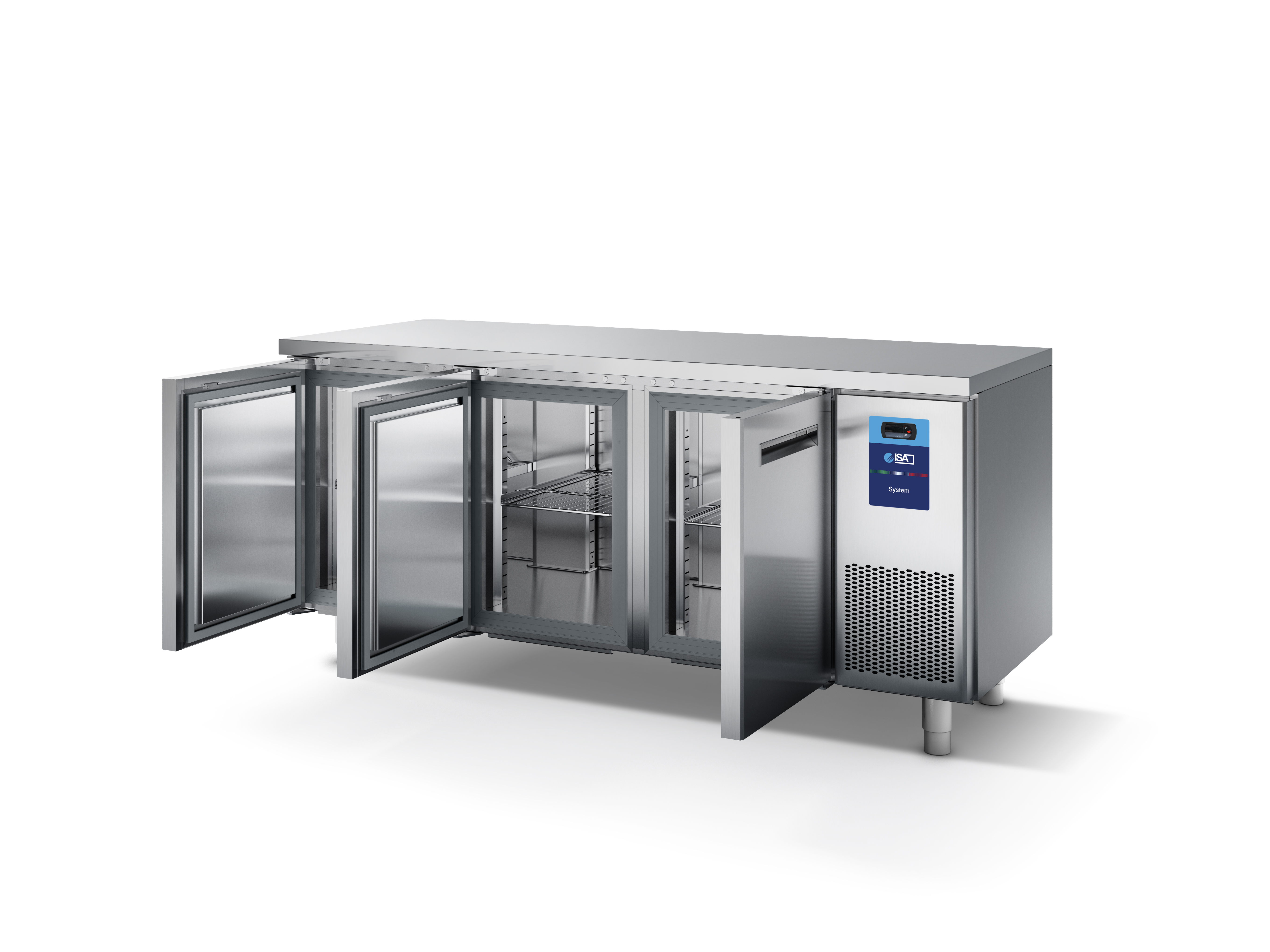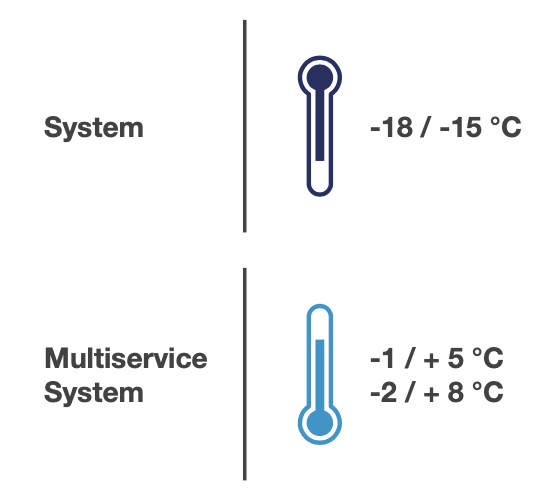 The Lab range of refrigerated counters is available in 2P, 3P and 4P models that can be configured between drawers, doors or tops. Infinity of combinations and practical design to adapt to the needs of any work environment. Positive or negative ventilated refrigeration characterized by its conveyed air flow, to optimize the homogeneous distribution of cold. At the heart of the performance is energy saving and respect for the environment.
Gastronorm GN 1/1
The System range of counters is available with ventilated refrigeration and positive temperature range -2/+8 °C or negative temperature range -18/-15 °C, in 3 different models of lengths 2P (136 cm), 3P (188 cm) or 4P (240 cm). A true modular system with ample flexibility of choice between configurations with doors, drawers and tops.
Set up
System gastronorm counters can be configured with reversible doors, pull-out drawers and tops with or without risers. Standard equipment for each door includes, 4 stainless steel racks (16 positions - 30 mm pitch), 1 white plastic coated GN 1/1 shelf and 1 pair of C stainless steel guide (512 mm) with maximum load of 45 Kg per shelf.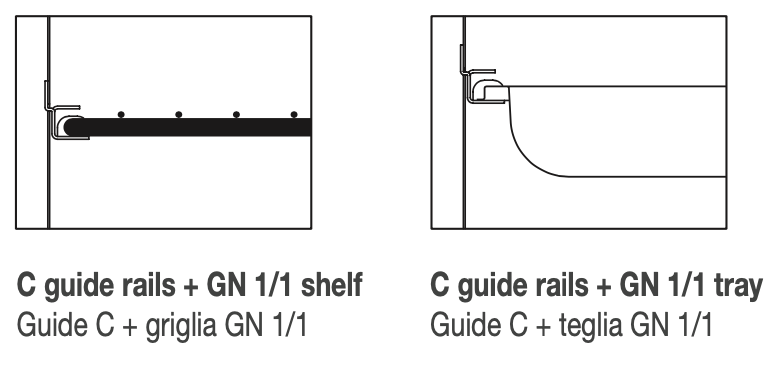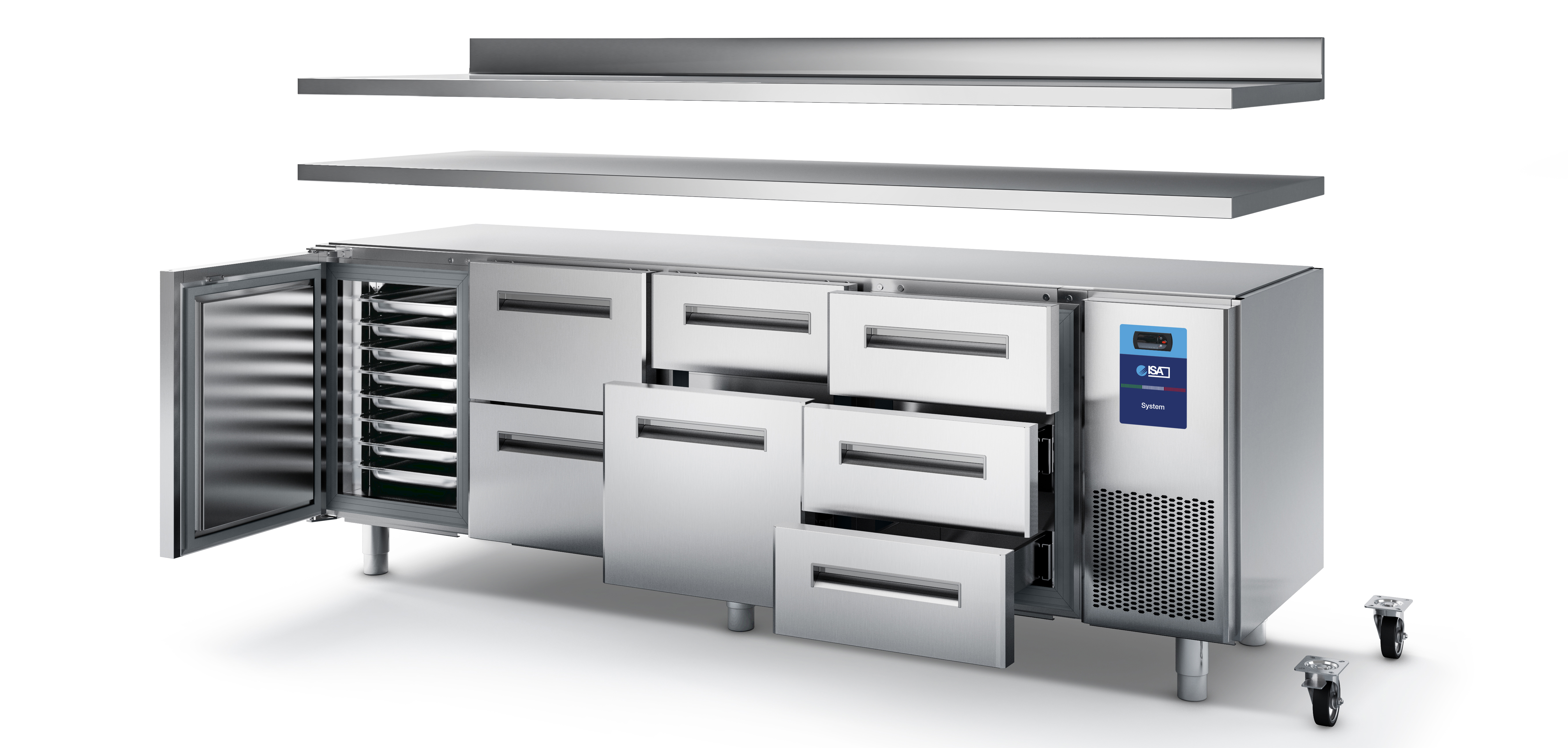 AISI 304 stainless steel top with riser
AISI 304 stainless steel top without rise
Adjustable feet (115-175H mm)
Swivel casters with brake
Natural technology and energy efficiency
Natural refrigerant
The use of natural refrigerant R290, allows the reduction of CO2 emissions and the reduction of 5-10% of average energy consumption. The sustainable choice for the environment.
Cyclopentane natural insulation
The use of polyurethane foam with cyclopentane in addition to maximizing thermal insulation, allows the reduction of consumption and environmental impact. The thickness of insulation of the shells of 80 mm allows greater structural stability of the bench and a reduction in heat loss for further energy savings.
Electronic fans
The condensing unit and the evaporating unit are equipped with electronic fans with low noise and mechanical vibrations, allowing a reduction of energy consumption up to 60%.
Reversible door
Thanks to the presence of the same fixing interfaces of the pivot hinges, the doors are reversible even in case of post-installation needs. They can have right or left opening, without the need of special accessories or spare parts.
Self closing doors
The doors with automatic return, are equipped with pivot hinges that allow the opening of the door up to 170° with the simultaneous blocking in open position at 90°.
Base with openings system
The engine compartment has been designed with a system of openings on the base that allow the disposal of heat even in cases of wall installation.
Conveying airflow
Airflow is channelled for homogeneous cold distribution, which ensures uniformity of air temperature inside the counter.
Easy access to condensing unit
The condensing unit is easily accessible thanks to the simple removal of the front and side covers, fixed with screws. Their disassembly allows complete access to the monobloc, reducing service times and facilitating ordinary and extraordinary maintenance operations..
Cooling unit
Each table foresees the positioning of the cooling unit, in the external technical compartment to the right of the refrigerated module, independently from the latter. A structure that allows 10% more space available for storage, maximum protection from corrosion and easy access for cleaning and maintenance.
Handling equipment
The stainless steel feet are adjustable in height, from 115 mm to 175 mm. Suitable for any type of floor, they guarantee the maximum stability of the counter and the perfect aesthetic alignment between the modules placed side by side. Pivoting directional castors with locking brake are available as an optional, to facilitate the movement of the counter inside the profressional kitchen.
Evaporator protective coating
A protective coating has been applied to the evaporator by means of cataphoresis, which eliminates the risk of possible refrigerant leaks due to corrosion phenomena resulting from the presence of citric acids and/or vinegar in certain types of preserved foods.
Finishing and internal surface
The counters in the Lab range are designed in AISI 304 stainless steel, with an insulation thickness of 80 mm. The internal walls and the bottoms of the refrigerated compartments are made with rounded corners.
Easy to clean
The internal design of the compartment is designed to make daily cleaning operations as easy as possible, thanks to the walls and bottoms made with rounded corners. The racks are completely removable and the gasket is easily removed.
System
Installation
Energy class
Standard equipment
Plastified grid 1 (for each door)
1 Pair of C guides (anti-overturning) per door
Configuration
Door
Drawers 2xC1/2 (per door)
Drawers C1/3+C2/3 (per door)
3xC1/3 (per door)
SPX (without top)
PX (with stainless steel top)
AX (with stainless steel top and rear upper part)
Temperature
-2/+8 °C (TN)
-18/-15 °C (TB)
Refrigerant
Refrigeration
Compressor
Defrost
Off cycle (TN)
Hot gas (TB)
Climate class
Insulation
Equipment handling
Heigh adjustable feet
Swivel casters with brake (optional)
External
Internal
Optionals
Swivel casters with brake
Grid GN 1/1 • (530x325mm) plastic coated / stainless steel
Central grid (414x205mm) plastic coated / stainless steel
Pairs of C guides (anti-overturning)
Trays GN 1/1 stainless steel (530x325x20/40/60/100H mm)



Are you interested in this product?