Mini Bar Fridge Genesis for contract, hospitality and residentials
The mini-bar designed by ISA
Genesis, which originates from the encounter between industrial culture inspired by the best Italian design and ISA's eco-sustainable technology, is an innovative minibar with the personality of a refined storage unit.
Conceived as a minimalist and contemporary storage unit, the Genesis mini-bar features two or three aligned drawers: one neutral and one refrigerated in Genesis 120, one neutral and two refrigerated in Genesis 180. These drawers are of the pull-out type on runners and are equipped with soft closing.
Innovative minibar with the personality of a refined storage unit.
The refrigerated interior, designed to accommodate wines, soft drinks, and fresh snacks such as sandwiches and rolls, can be freely configured thanks to the adjustable solid wood dividers and bottle shelves (both Bordeaux and Champagne types).
Its technical features - the independent adjustment of the temperature of the drawers, a completely silent motor, the sustainability of the refrigerant gas (R600a) - make Genesis an innovative model, destined to open up new paths and intended uses in the mini-bar furniture sector.

GENESIS: Contemporary style in the name of sustainability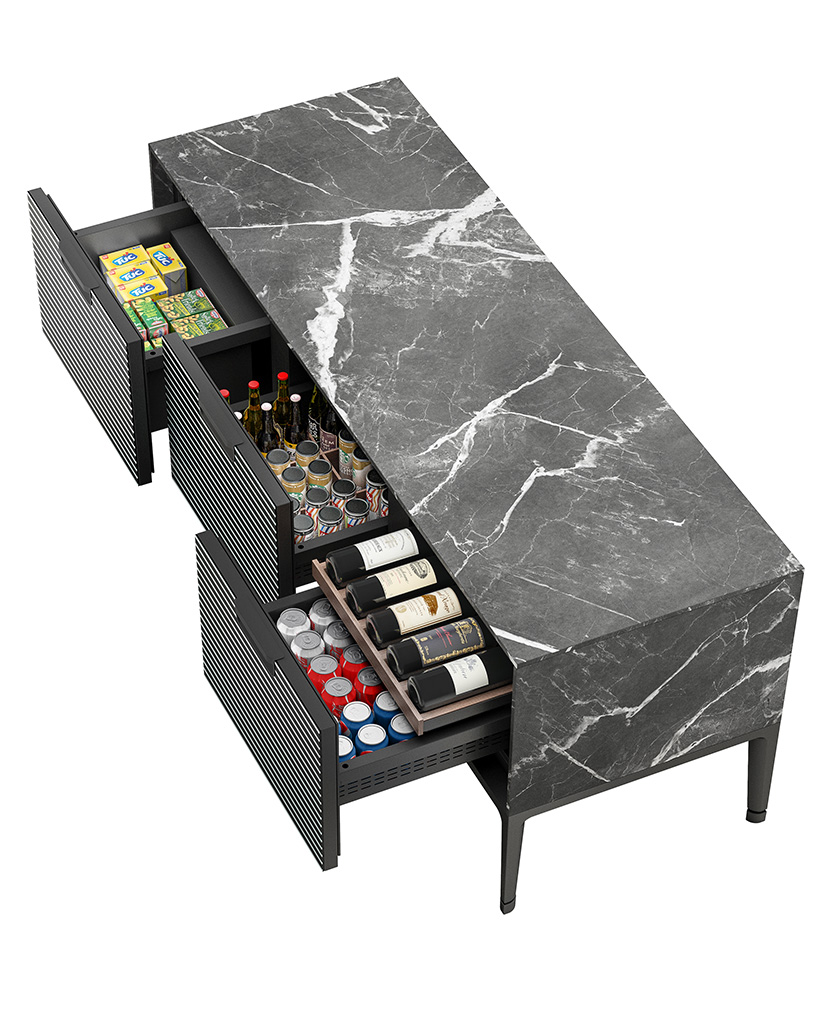 Genesis is a silent and technologically advanced refrigeration project of the highest value in terms of sustainability. In order to reduce the impact of emissions on the environment, anticipating the European Commission's guidelines on the subject, ISA uses only natural gas for refrigeration: R290 and R744, which are best performers according to the Global Warming Potential Index rating.
In the picture
External finish: HPL 12 mm K&B #6133 Marquina.
Door / Drawers: Black glass with silkscreen..
The mini-bar becomes a furnishing element
Genesis marks the beginning of a new type of mini-bar, which combines functionality and aesthetics, technology and customised design. A versatile solution for contract, hospitality and residential use. Its linear and compact profile, with its customisable design and optimal performance in terms of refrigeration and acoustic comfort, make it the protagonist of interior design.
Also realised in collaboration with the designer Sergio Brioschi, this storage unit fits into all contexts, from hotel suites to meeting rooms, from presidential offices to business lounges. But also in the home, Genesis fits in perfectly, from the sleeping area to the living area.
The external panelling can be configured according to different stylistic codes for each setting in which it will be placed.
It can be made of precious materials and feature refined finishes, from glass to marble, from wood to metal to ceramics.
Technical features
L 120 - 180
D 61
H 71
TN - Chiller


Structure
Interior and exterior of cabinet made of black prepainted steel or stainless steel with scotchbrite finish. Fully insulated with polyurethane foam expanded with environmentally friendly cyclopentane.
Neutral compartment on left side with pull-out drawer.
Installation
Plug-in
Temperature (°C)
0 / +18
The two refrigerated compartments of Genesis 180 are independently adjustable.
Refrigerante
R600a
Refrigeration
Static
Compressor
Silent hermetic
Defrost
Off cycle
Climate Class
N
Energy Class
E
Opening system refrigerated compartments
Pull-out drawer on high-slide slides
Opening system neutral compartments
Pull-out drawer on high-slide slides
Base structure
Aluminium die-cast structure