An high performance ice cream display case
Kaleido has a refined and functional design, designed in every detail to enhance the quality of the products. Such as the tilted tray, which allows normally hidden angles to be visible. Or the LEDs, which are ideal to highlight the range and enhance the customer's favourite flavour. The solidity of Kaleido derives from the selection of top quality materials such as steel and glass. Reliability that is recognised and can be felt. Every day.
Plus Technology
Three different refrigeration systems
PLUS, Single evaporator with double front air out flow.
PLUS 1, Double evaporator with single air out rear flow.
PLUS 2, Double evaporator with double air out rear flow.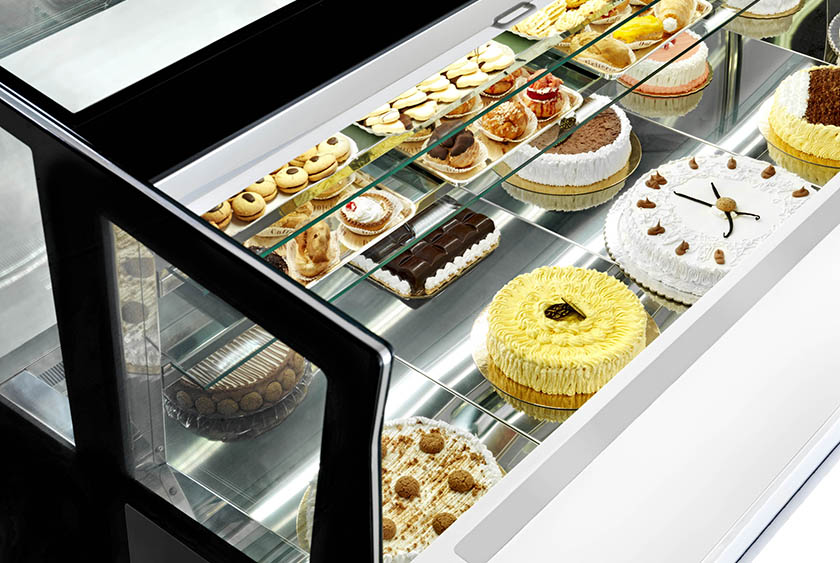 Technical features
| | |
| --- | --- |
| Installation | Plug-in; Remote (optional) |
| Temperature | -20/+2 (Gelato - Gelato Dual Zone); -20/+10 (Gelato&Pastry Dual Temp) |
| Refrigerant | R290 |
| Refrigeration | Ventilated; Ventilated - Plus; Ventilated - Plus 1 (optional); Ventilated - Plus 2 (optional) |
| Compressor | Hermetic |
| Defrost | Reverse cycle |
| Climate class | 4 (30 C° / 55% RH); 7 (35 C° / 70% RH) |
| Upper glass | Single heated |
| Front glass | Heated double glasses |
| Side glasses | Heated (double) |
| Opening system | Servo, bottom-up opening system |
| Rear closing system | Polycarbonate sliding doors; Operator side closure with sell-rolling curtain |
| Work top | Solide surface white |
| Lighting | LED 4000 K; Led 5700 K |
| Equipment handling | Swivel casters with brake; Heigh adjustable feet |
| Height | 117 ‧ 135 (cm) |
| Width | 120 ‧ 170 ‧ 220 ‧ AE45 Plus; 120 ‧ 170 ‧ 220 ‧ Plus 1; 120 ‧ 170 ‧ 220 ‧ Plus 2; (cm) |
| Depth | 120 (cm) |
Energy Label
PRODUCT DETAILS
REFRIGERANT
HEIGHT
LENGHT
ENERGY LABEL
KALEIDO PLUS
R290
117
120
KALEIDO PLUS
R290
117
170
KALEIDO PLUS
R290
117
220
KALEIDO PLUS
R290
117
120+50
KALEIDO PLUS
R290
117
170+50
KALEIDO PLUS
R290
135
120
KALEIDO PLUS
R290
135
170
KALEIDO PLUS
R290
135
220
KALEIDO PLUS
R290
135
120+50
KALEIDO PLUS
R290
135
170+50
KALEIDO PLUS1/ PLUS2
R452A
117
120
KALEIDO PLUS1/ PLUS2
R452A
117
170
KALEIDO PLUS1/ PLUS2
R452A
117
220
KALEIDO PLUS1/ PLUS2
R452A
135
120
KALEIDO PLUS1/ PLUS2
R452A
135
170
KALEIDO PLUS1/ PLUS2
R452A
135
220
---