Search the product for you
Essential design and high-level technical features
Essential design and high-level technical features
Supercapri is the synthesis of an essential design and high-level technical features. It is equipped with glass side windows with heated chamber and heatable laminated front glass that can be opened.
Technology
Three different ventilations enhance the technical performance:
PLUS single evaporator with frontal dual airflow. PLUS 1 dual evaporator with single rear air flow. PLUS 2 dual evaporator with dual rear air flow.
Dual Temperature
Designed with maximum flexibility to allow seasonal product display management. The Dual Temperature function (optional) allows the display cabinet to change simply, the operating temperature for Ice Cream and Pastry Products. This allows one cabinet to offer seasonal flexibility without increasing floor space.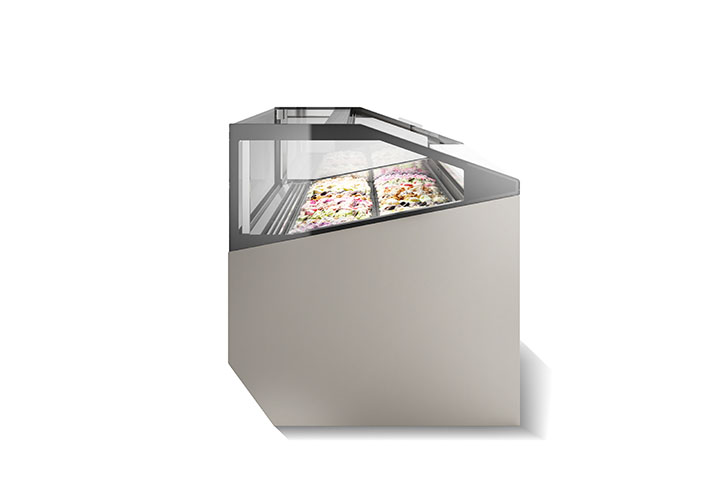 Technical features
| | |
| --- | --- |
| Installation | Plug-in; Remote (optional) |
| Temperature | -20/+2 °C |
| Product temperature | -16/-14 °C |
| Climate class | 4 (30 C° / 55% RH); 7 (35 C° / 70% RH) |
| Refrigerant | R404a |
| Refrigeration | Ventilated |
| Defrost | Reverse cycle |
| Lighting | Led 5700 K |
| Front glass | Heated stratified |
| Equipment handling | Swivel casters with brake; Heigh adjustable feet |
| Work top | Solide surface white |
| Rear closing system | Polycarbonate sliding doors; Self-rolling curtain |
| Opening system | Openable glass structure towards the bottom |
| Configuration | Canalized (optional); Dual temperature (optional) |
| Height | 117; 135 (cm) |
| Width | 120; 170; 220; 120+50; 170+50; AE45 (cm) |
| Depth | 111 (cm) |