Choosing a meat cutting counter: things to know
Among the equipments to buy, for those who need to furnish a grocery store, deli, or delicatessen corner, there is the refrigerated counter for meat, cured meats and fresh products. Is it better to opt for a used counter or take advantage of a custom design service? Before answering this question, it is essential to clarify what are the store necessities and take stock of the features that characterize the most innovative refrigerated counters. Not investing in the purchase of a good meat counter is not the right solution to save money: let's see why.
Meat and fresh products counter: quality first
The budget for setting up a mini market or a deli depends first and foremost on the square footage at our disposal and on the volume of business. Investing in the right equipment is very important, especially when it comes to refrigeration technology. Choosing a served counter for meat, cured meats and dairy products is not like buying a stock of shelves: unlike simple displays, in fact, refrigerated counters must respect precise requirements from a technical point of view. The refrigeration system must be in line with environmental sustainability regulations and employ an appropriate refrigerant. An outdated counter, moreover, may be inefficient in terms of consumption, unlike the latest generation equipments, that are advantageous from the point of view of climate class and equipment.
In addition, the features to take into consideration when choosing a ventilated refrigeration counter include the defrost mode and the potential humidity control. These functions allow a better conservation of the product, which, as a consequence, keeps its organoleptic characteristics longer, even with prolonged exposure. In addition to the climate class (with possible energy-saving function), the refrigerant type and the compressor and defrosting type, another element that should not be forgotten is the power supply, which can be available in plug-in version or prepared for remote unit.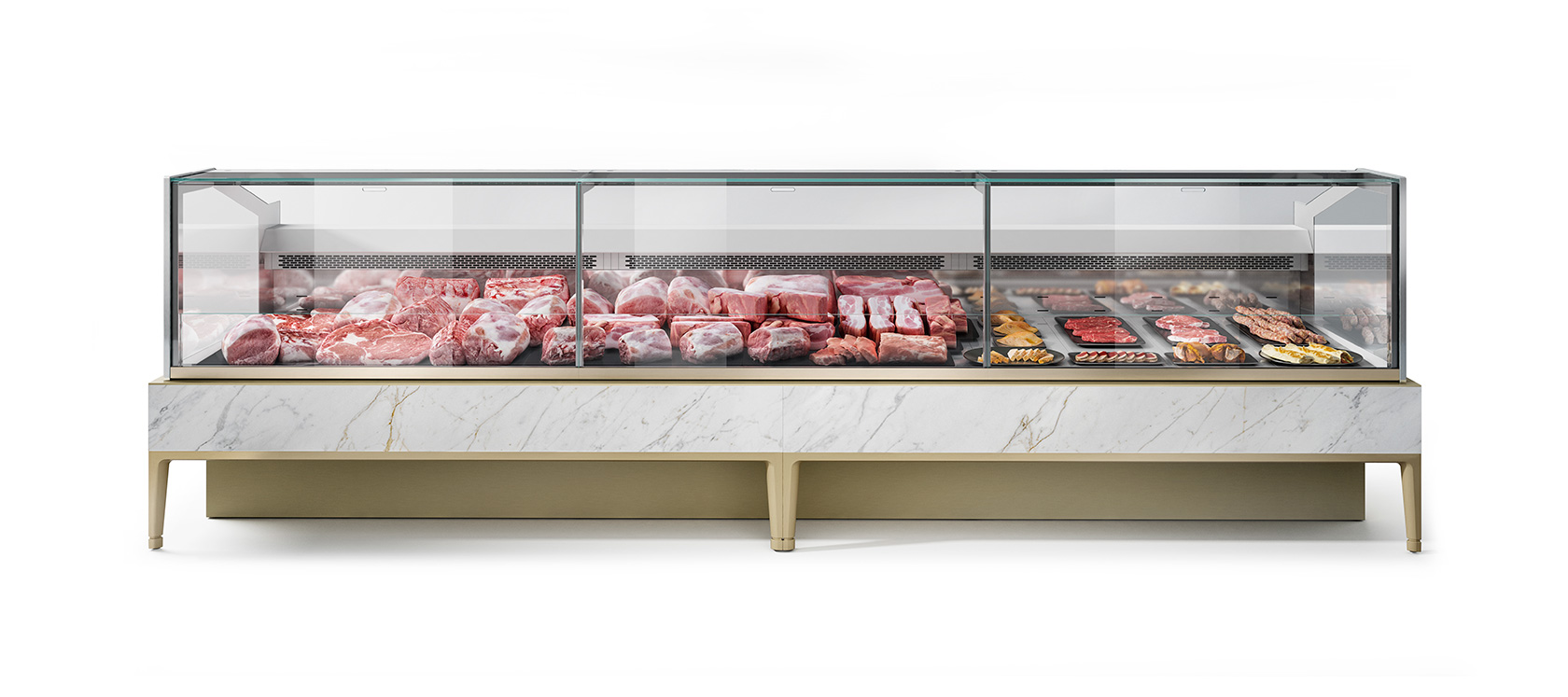 Meat and delicatessen serve-over counter: design
Choosing the best cured meats serve-over counter must take into consideration the set of modules and equipment that will be integrated within the counter. A dedicated design service, precisely for this reason, can prove to be the best solution to make a smart use of your space and to achieve maximum efficiency for the same budget. The ability to define aesthetics is also by no means secondary: enhancing the presentation of the product is crucial, as is storing it optimally. If the refrigeration technology helps preserve taste and appearance, design allows you to add value to the offering especially if it is an gourmet and artisanal product. In this case, it becomes even more important to invest in the look, without of course neglecting ergonomics and practicality.
Those who aim at the best proposal for what concern technology, design and materials can look at Pentagram Deli, a uniquely designed refrigerated system characterized by a total vision overview of the products on display. The quality of service can also count on reduced noise and vibration compared to the traditional type models. Led lighting and front-tilt glass panel contribute to the perfect presentation of cured meats, dairy products and fine fresh meats. In the HUR Meat version, you can also benefit of the humidity control function. In addition, there are high-quality materials and finishes to choose from to equip the refrigerated counter with surfaces that are durable, tough, scratch-resistant and easy to clean and maintain.