Excellent product visibility and conservation
Are you interested in this product?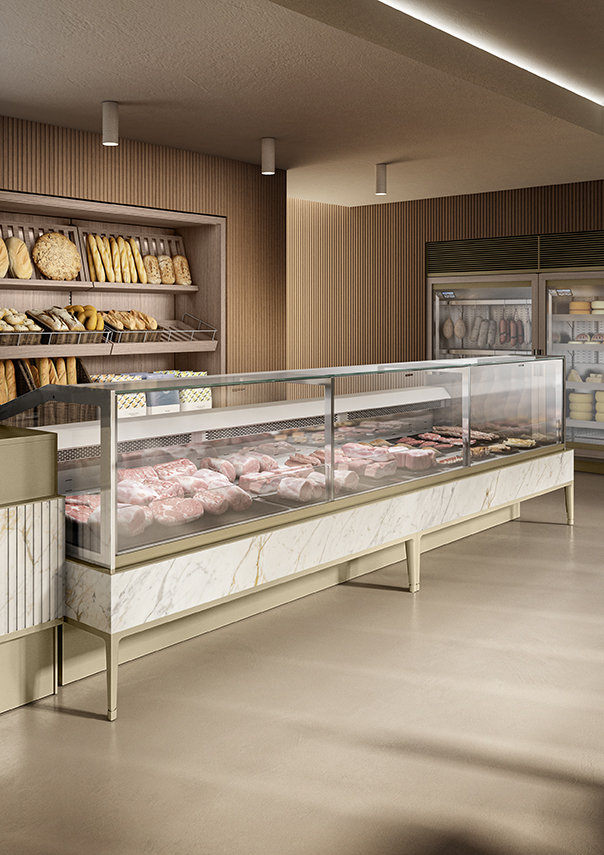 Eccellente visibilità e conservazione dei prodotti
Pentagram Deli è un esclusivo banco servito ideale per la conservazione e per l'esposizione di carni fresche, salumi, latticini di grande pregio. Pentagram Deli sposa linee eleganti all'ergonomia del banco offrendo alla clientela una panoramica "total vision" sui prodotti in esposizione e una notevole praticità nella gestione quotidiana.
"Natural" high technology
"Natural" high technology The refrigeration system is a jewel of high technology and sustainability: dual-circuit refrigeration unit with R290 natural refrigerant, hermetic compressor and reverse cycle defrosting.
Less vibrations and noise (-30% compared to models with R404A), greater energy efficiency (up to 10% savings) and maximum environmental sustainability, because it is fully compatible with European F-GAS legislation.
Pentagram Deli features ventilated refrigeration with humidity control (in the HUR Meat version), straight tilt-down glass and LED lighting.
Are you interested in this product?