How to furnish a bar: what are the characteristics that must always be kept in mind?
Whether it's a bar, an ice cream parlor or a chic wine bar, the display layout matters. The simple functionality is not enough to attract the attention of the customer and, above all, to retain him: furnishing a bar also means focusing on aesthetics and identity of the place, to create a recognizable mood. Refrigerated display cases, bar counters and other furnishing elements must be perfectly integrated: not only to guarantee the best service, but also to create the right atmosphere.
Designing
the
furnishings
of a bar: counters and back counters
The keystone of the furnishing project is the counter: a meeting point for the clientele and a link between the various furnishing elements of a bar. Choosing the best counter means giving priority to aesthetics, without sacrificing performance and functionality. The modern back counters and bar counters are characterized by excellent finishes, as well as high-strength coatings that ensure great practicality and durability. The most innovative solutions for bar furniture focus on the quality of materials, refined aesthetics and the possibility of customization.   
The perfect synthesis of these requirements is ISA's ABACO, a complete range of semi-finished steel products for bars, ice cream parlours and self-service restaurants. The brand was created as a project that provides for the utmost attention to detail in terms of finishes, the use of selected materials and maximum attention to energy savings and sustainability, with the use of natural refrigerants such as R290. Thanks to the various configuration options, it is possible to design and implement any layout solution. Another excellent example of this philosophy is the Pentagram, ISA's bar furniture system, which is designed to meet the needs of high-end laboratories and establishments.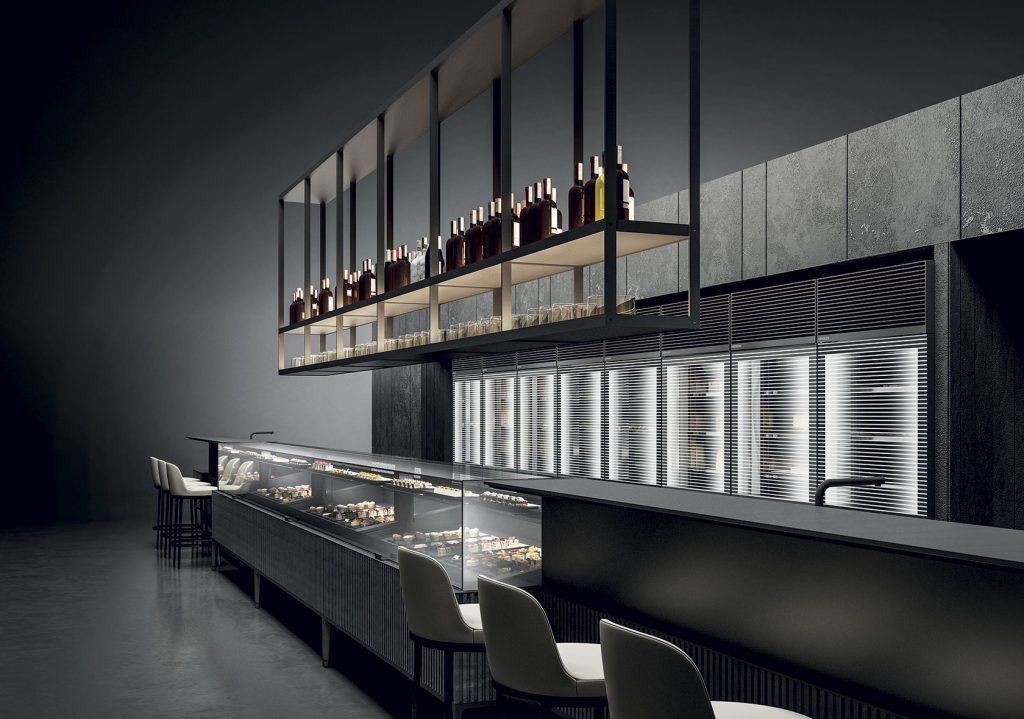 How to
choose
the back counter
The operational aspect is essential, and inevitably translates into the quality of the service: this consideration is even more valid when it comes to the organization and equipment of the back counter. Pentagram systems offer many possibilities of configuration. As an option, hinged doors in backlit screen-printed glass can be flanked by drawers with handles in die-cast aluminium. The cold rooms (low temperature or positive temperature) are equipped with static refrigeration or ventilated refrigeration, depending on requirements. They are also equipped with connected edges to facilitate cleaning operations: an element to always keep in mind when choosing equipment for the bar.   
Equally important is to have an even distribution of temperature and optimize consumption. To facilitate this mission, refrigeration systems are equipped with finned evaporators, automatic defrosting and low consumption fans. Those who prefer to focus on the Abaco range can count on drop-in counters that can be channelled – including corner display cases -, removable and customisable worktops, display cases and shelves in extra-clear glass and display cases lit by high-power LEDs, with warm or cold light. 
Display

cases

for

fresh

products and snacks
Even the most refined gourmet product loses value without the right presentation. This is the case for pastry creations, but also for hot snacks. Placing them in the right frame allows you to enhance their aesthetics and increase sales. To improve visibility, for example, it is possible to focus on special modules for the checkout with product display. From a technological point of view, the objective is to guarantee optimal conservation, without ever losing sight of energy efficiency.   
In the case of fresh products – including pralines and other fine pastries – the ideal solution is to opt for ventilated refrigeration display cases equipped with humidity control and automatic defrosting systems. Hot display cabinets make it possible to maintain a constant temperature and offer salty snacks and delicatessen products that are always crispy and tasty. For the display of non-refrigerated products, the classic glass showcases evolve into modular systems with back-highs with a clean and essential look. Multifunctional display cases are also very useful, extremely versatile thanks to the possibility of differentiating display compartments and services, from breakfast pastries to afternoon snacks. The perfect choice, in short, for every type of store and venue, thanks to their small size, large volumes and the availability of refrigerated, non-refrigerated and hot service in a single display case. 
Regardless of the type of product, ISA's bar furniture systems focus on the highest levels of quality, with made-to-measure solutions for ice cream parlours, pastry shops, wine bars, cocktail bars and trendy venues. The design service is completely customized, from the definition of the layout to the choice of materials and finishes, with numerous options in terms of textures and colors.