The new wall-site multideck with Power Unit
Supernova is a wall-site multideck chiller, for the display of dairy products, fresh and pre-packed products with self-contained refrigeration.
Power Unit
New 2023
ISA Power Unit is a self-contained refrigeration unit that is inclusive of all the components required to execute the thermodynamic cycle. The components are assembled in a single self-supporting structural housing, complete with external air intake ducts and cooled air supply ducts.
Thanks to its Plug & Play system, assembly of the Power Unit is particularly fast and easy and requires no equipment or special training by maintenance technicians. Two types of Power Units are available, the ceiling-mounted, UP version, and the bottommounted, DOWN version.
ISA Power Unit cuts operating costs by drastically reducing downtime in case of malfunction, it is easy to reuse or recycle, it is available in TN (medium temp) and TB (low temp) versions, it can be applied to a wide range of different products; it is easy to clean and install, it is sustainable, and it can be easily upgraded to keep up with the latest technological developments of its components.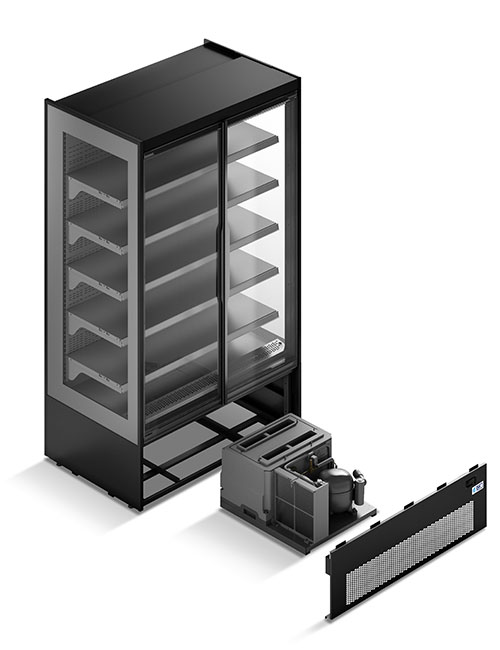 Technical features
| | |
| --- | --- |
| Installation | Plug-in |
| Climate class | 3M1 |
| Temperature | 0/+2 °C |
| Refrigerant | R290 |
| Refrigeration | Cassette |
| Defrost | Off cycle |
| Lighting | LED lighting on canopy; Undershelf LED lightning optional |
| Side panels | Panoramic with safety glass; Mirrored; Blind |
| Shelves | 5 (lighting optional) |
| Doors | Double glass doors |
| Equipment handling | Heigh adjustable feet; Equipment handling |
| Height | 205 (cm) |
| Width | 94; 125; 188 (cm) |
| Depth | 78 (cm) |