An icon of traditional Italian ice cream throughout the world.
The Carapine Cart is a new interpretation of the traditional refrigerated cart that shares with the Classic Cart its philosophy and retro design and has the additional advantages of a well counter with circular tubs that allow for excellent ice cream storage and a greater temperature stability of the product, especially in conditions where the temperature and humidity are especially challenging.
Il Carrettino
CARAPINE
All the details of the Classic Cart and the Carapine have been designed and manufactured to maintain a high level of service, operator comfort and efficiency in all environmental conditions without sacrificing the esthetic harmony, the craftsmanship and the unique charm that only the ISA ice cream cart can convey.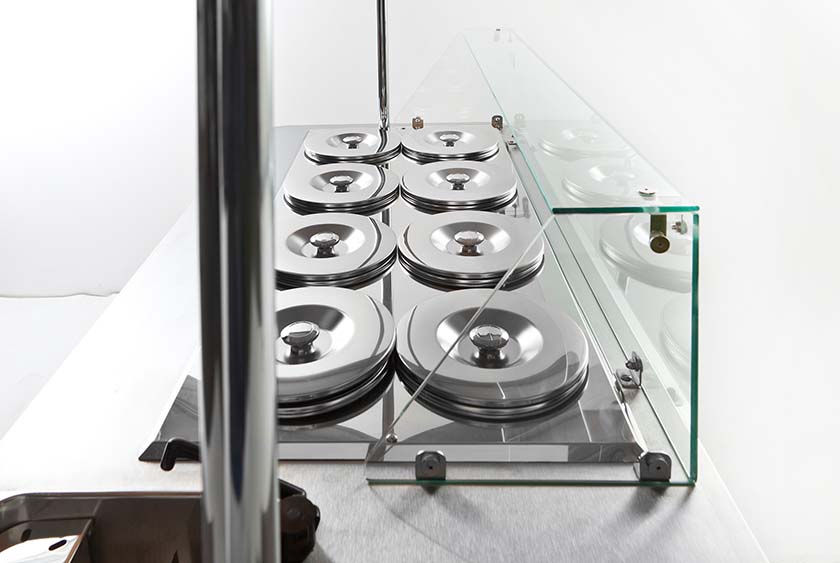 Technical features
| | |
| --- | --- |
| Installation | Plug-in |
| Product temperature | -16/-14 °C |
| Refrigerant | R290 |
| Refrigeration | Ventilated |
| Compressor | Hermetic |
| Defrost | Hot gas |
| Climate class | 4 (30 C° / 55% RH) |
| Upper glass | Single; Tempered |
| Front glass | Single glass; Tempered |
| Side glasses | Single; Tempered |
| Rear closing system | Tilting panel |
| Work top | Stainless steel |
| Lighting | Led 5700 K |
| Equipment handling | 2 ray wheels and one pivoting wheel |
| Height | 118 without curtain, 208 with curtain (cm) |
| Width | 183 without curtain, 203 with curtain (cm) |
| Depth | 95 without curtain, 128 with curtain (cm) |