ISA and Hizone at Fuorisalone for Milan Design Week
On stage the gourmet gelato show, thanks to the collaboration between master gelato maker Simone Bonini, starred chef Gianni Tarabini, and the technological innovation of ISA in Piazza del Castello Sforzesco in Milan from 9 to 14 April.
ISA and Hizone – the new high-end integrated furniture system for professional laboratories of ice cream parlours, pastry shops, and restaurants, born from the collaboration with the famous designer Antonio Citterio – participated in the DDN Phutura exhibition of Fuorisalone, which took place during the Design Week 2019 in Piazza Castello in Milan, in the area adjacent to Castello Sforzesco, from 9 to 14 April. An area of about 6,000 square meters, among spectacular and immersive installations, to tell the relationship between human beings and the environment, making the most of technology with new solutions for living and contemporary life. The idea of participating in the DDN Phutura event was born from the union between technological innovation and the design of ISA, the creativity of Simone Bonini, entrepreneur and master Florentine gelato maker, founder of the Gelato Carapina concept, and the culinary art of Gianni Tarabini, starred chef of the La Preséf restaurant inside the agritourism company and beauty farm La Fiorida in Valtellina.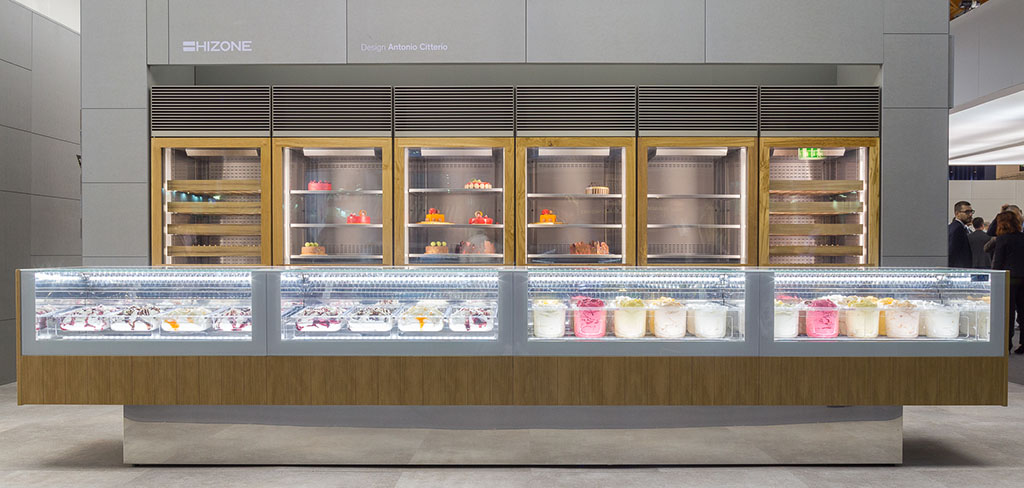 This year too, as always in April, the Salone Internazionale del Mobile and Fuorisalone defined the Milan Design Week, the most important event in the world for design addicts. In this edition ISA participated for the first time, a leading Umbrian company in the field of professional refrigeration, with the new brand Hizone, an innovative range of multi-function blast chillers, refrigerated cabinets, refrigerated and neutral counters, for furnishing professional laboratories of gelato makers, pastry chefs, chefs, and gastronomes. Introduced to the world for the first time in January, at the latest edition of Sigep in Rimini, Hizone was born from the union of the creative vision of designer Antonio Citterio with Sergio Brioschi and the technical experience of ISA.
ISA's presence at the DDN Phutura of Fuorisalone is the result of the collaboration between two partners of excellence such as Simone Bonini and the team of La Fiorida. In the 6 days of the Design Week, in the area dedicated to the press inside one of the two 'greenhouses' built in Piazza Castello, show cookings took place every day, where the absolute protagonist was artisan gelato in gourmet version. The experience and creative talent of master gelato maker Simone Bonini and starred chef Gianni Tarabini, thanks to the precious raw materials of the authentic Alpine farm La Fiorida, and with the technical support of the Hizone high-end laboratory and the Oneshow professional showcase, mixed ingredients that are the result of a genuine, quality, short supply chain combined with the tradition of artisan gelato and gourmet gastronomic innovation for an absolutely unique sensory experience.
Chef Gianni Tarabini
Maestro Gelatiere Simone Bonini