Dark Kitchen: what they are and why they are having unexpected success
The world of catering is constantly evolving, thanks to the current scenario and the growing success of food delivery apps. The tasting of food, more and more often, is set within the walls of the home, in the company of family, close friends and, why not, one's favorite TV series. In this context, the Dark Kitchen is a phenomenon destined to establish itself as an alternative model to traditional catering, for logistical reasons and not only. What exactly does it consist of and what choices does it entail from an organizational point of view?
Dark kitchen: what it is and how it works
Food delivery has become an important part of daily habits, posing new challenges to the restaurant sector. If, once upon a time, eating at a restaurant essentially meant sharing a collective ritual and sharing the space with other patrons, amidst the hustle and bustle of waiters busy with menus and trays, today the experience is increasingly set within private spaces. As a result, gastronomic creations are sometimes created in "invisible" kitchens, reserved exclusively for chefs, delivery men and other workers who manage food preparation and delivery operations. This is the so-called Dark kitchen, a space "closed" to customers, where the order, transmitted via app, translates into a tailored offer: the product, then, is entrusted to the riders, in charge of reaching the customer's address. Ideally, the Dark kitchen must be able to manage a pool of requests as wide as possible, even from a geographical point of view: precisely for this reason, it can become a point of aggregation for chefs representing different restaurants with varied menus and locations.
The Dark kitchen laboratory
The Dark kitchen, by its very nature, strives for maximum efficiency in order to achieve the objectives of quality and variety of offerings. From the point of view of equipment, nothing can be left to chance: the professional equipment inside must meet changing needs and intense workloads. In order to guarantee excellent results, the dark kitchen must also take perfect care of food storage aspects.
ISA refrigerated equipment offers top-notch performance for the dark kitchen laboratory, including blast chillers, tables, display cases and energy-saving cabinets. Amongst the most complete solutions in this sector, the professional equipment includes of the line Lab of ISA with a diversified line of wine cellars, food & beverage cabinets, display cases and storage cabinets in plug-in or remote versions. Energy saving, rigorous and ergonomic lines are the common features of these professional food storage products, which are powered by natural refrigerants – in line with European regulations – with a twofold advantage: environmental sustainability.  Furthermore, thanks to the ISA Connect technology, it's possible to remotely monitor the operation of the products 24/7, in order to manage the production flow and the correct preservation of the food.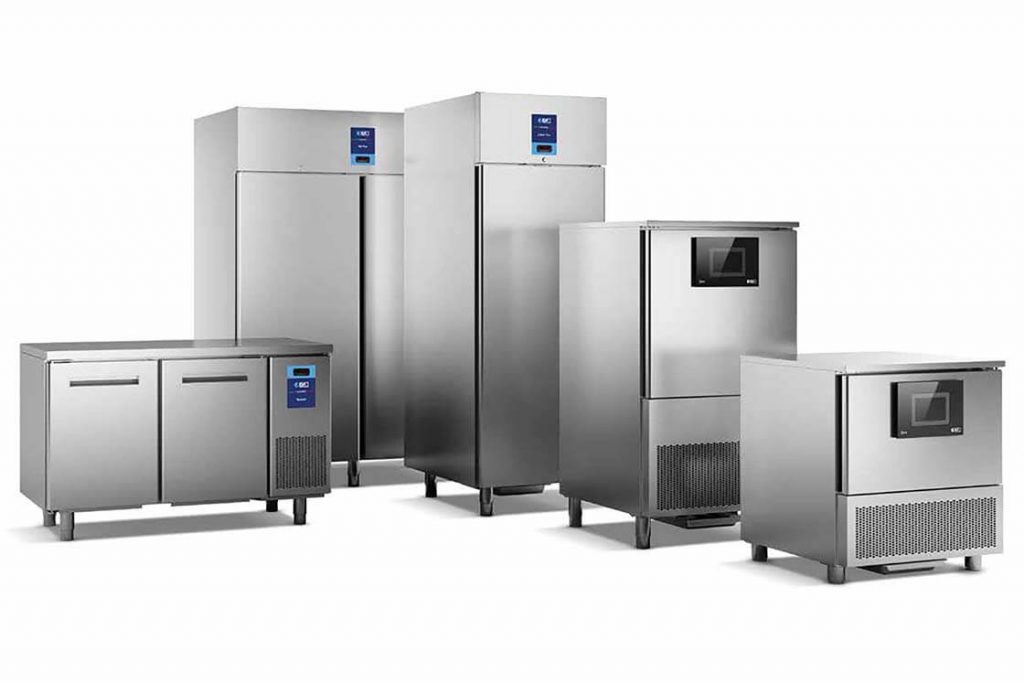 Layout design
Advanced solutions in the field of refrigeration science and architecture coexist with a wide variety of layout options. The Abaco range of furnishings for public establishments is characterized by the targeted configuration service, thanks to which large and small spaces can be equipped in the most efficient way. Refrigerated cabinets, bar counters, back counters and drop-in cabinets can be fitted to the centimetre, creating a practical and rational working environment. An intuitive 3D configurator is also available for Lab equipment, to easily design the laboratory and process orders in real time.